Home :: Contact Us :: More Trip Reports :: Comments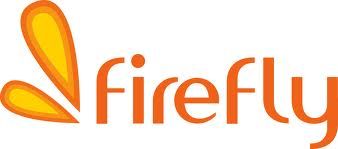 Planning
Flying between Singapore and Kuala Lumpur usually means flying with airlines such as Singapore Airlines, Silk Air, Air Asia and Malaysian Airlines who fly between Singapore Changi Airport (WSSS/SIN) and Kuala Lumpur Sepang Intl (KUL/WMKK) on a regular basis using aircraft such as B777s, A320s and B737s. However there is another way of flying between these two great cities on an airline called Firefly.
Firefly Airlines was launched as a subsidury of Malaysian Airlines to help keep the edge on low cost airlines like Tiger and Air Asia from dominating the market. Firefly's operations are unique in many aspects such as they fly propellor driven ATR-72-500 aircraft which will fly you between cities at a lower altitude and at a slower pace which would appeal to many people. Secondly they are the only airline to operate scheduled turboprop aircraft into Singapore Changi Airport since the 1970s. They are also unique by flying out of Subang Airport (SZB) instead of Sepang Intl (KUL). Subang is alot closer to the city and is ideal for business traffic with four flights per day to Singapore. Subang Airport was Kuala Lumpur's original international airport and is today served mainly by Firefly and Berjaya Air on small commuter routes within the malay peninsula. Subang is also a busy general aviation airport with lots of visiting business jets and is also a major maintenance hub for helicopters and light aircraft. The Transmile Cargo base is also located at Subang.
Booking the flights was very simple and was made through the airline's website www.fireflyz.com.my. The fares were very cheap and you had four daily flights to choose from.
Flight Information
Aircraft: ATR-72-500
Registration: 9M-FYB
Flight No: FY 3502
Route: Singapore Changi Airport (SIN) - Kuala Lumpur Subang Airport (SZB)
Seat: 4F
STD / ATD: 10:50 / 10:54
STA / ATA: 12:00 / 12:05
Aircraft History: Test Rego F-WWED
Del Date: 29-Aug-08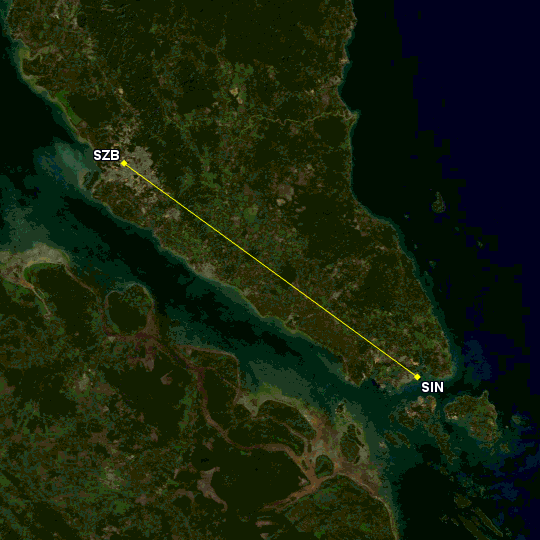 Great Circle Mapper - copyright © Karl L. Swartz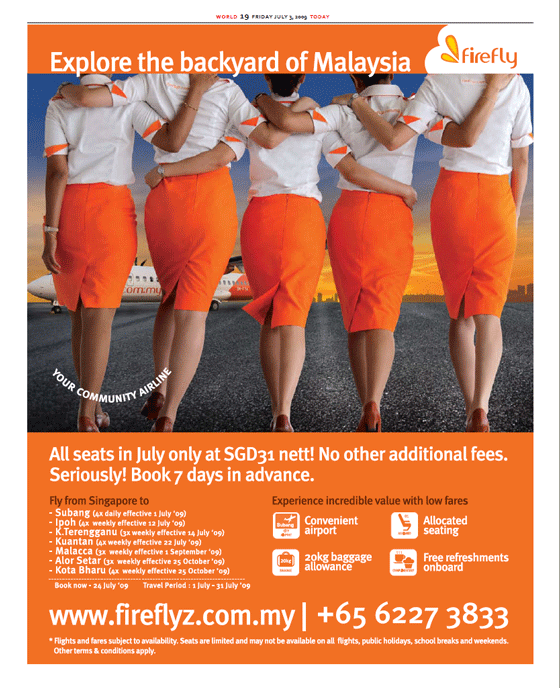 Firefly advertisement
Day of Travel
Firefly use the budget terminal at Sinagpore changi Airport along with Tiger and Cebu Pacific. It was my first time using the budget terminal and I really didn't know what to expect. The terminal is linked to the other three terminals at changi by a free bus service which operates regularly. Upon entering the terminal you have some food outlets on the left, very spacious check-in area in front of you and car hire and tour operator desks on the right. There were no barriers for the check-in queue and it seems that two counters were assigned to each flight.

Firefly check-in counters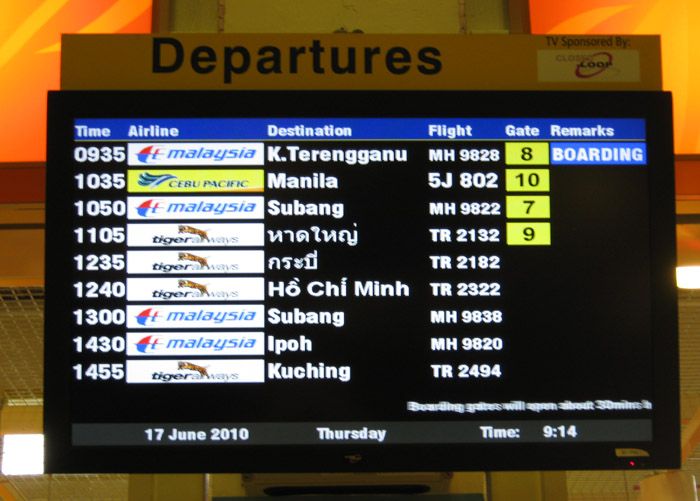 FIDS showing my flight under an MH logo
Check-in was quick and efficient as I was given a shopper docket like boarding pass for window seat 4F. After check-in I cleared outwards customs and had some time to explore the budget terminal before finding my way to gate 7. If you walk along the gates there are some large windows where you can photograph aircraft parked on the stands or using runway 20C/02C. There were ample shops and food outlets also.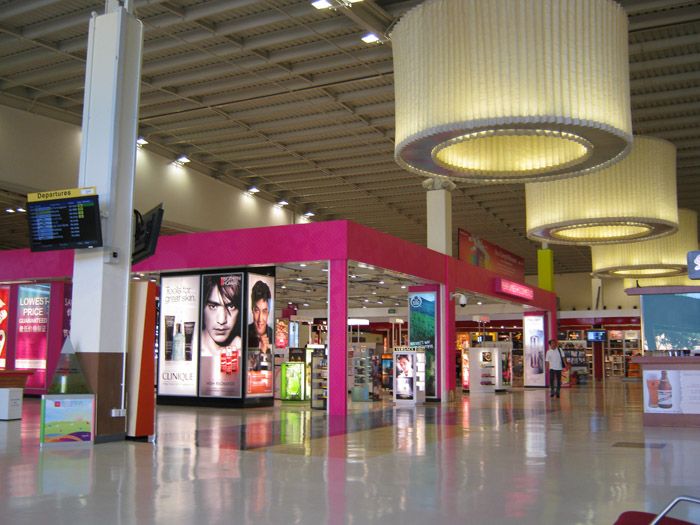 Inside the Departures Hall of the budget terminal

You can get pictures like this at each gate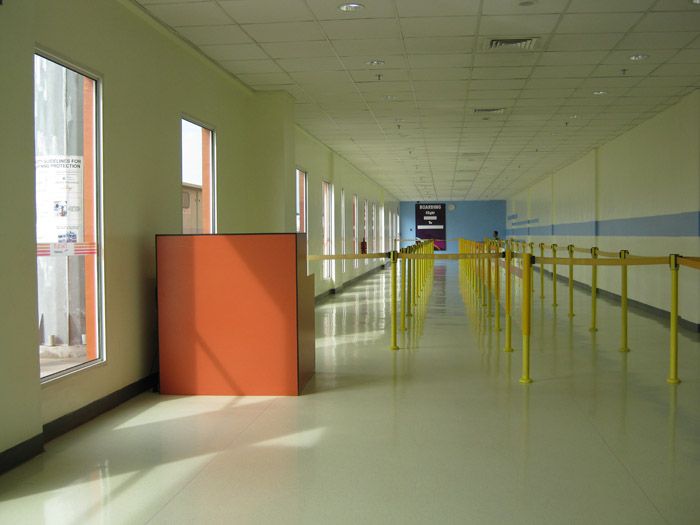 A view of gate 7

Our aircraft on the stand
Once boarding was called they boarded the front rows first and we were marshalled accross the tarmac towards the rear door. The only way to board these ATR's is from the rear door as there is a cargo section in the front where the front door would normally be. So it's more or less a combi aircraft being part passenger and part cargo. Upon climbing the rear stairs, I was greeted by the Malaysian hostess and told where my seat was. Once everybody was seated, the doors were closed and we commenced taxi to runway 20C. The take-off was short but powerfull as we climbed to an altitude of 18,000ft.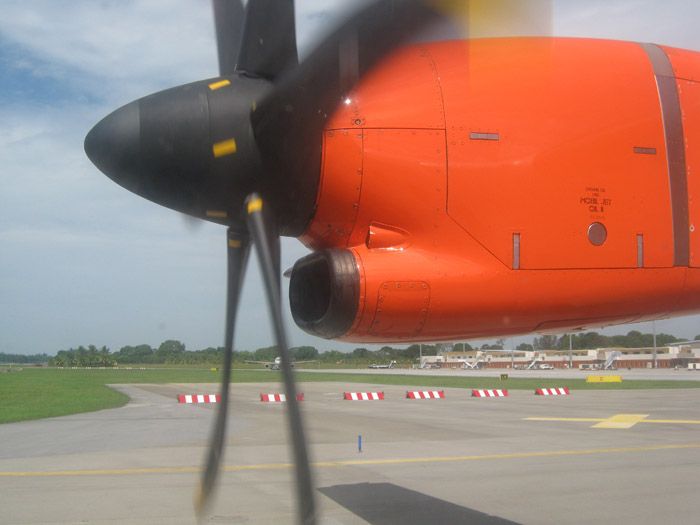 Lining up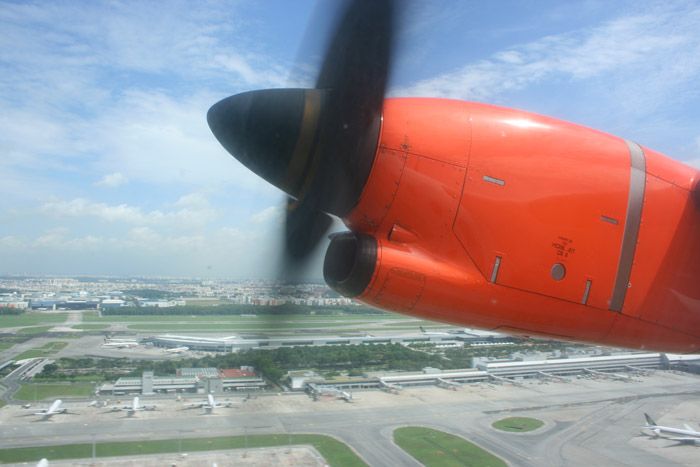 Once the seatbelt sign was switched off, the crew began the snack service which was a choice between peanuts or a muffin to eat and apple or an orange juice to drink. After the snack service, the two cabin crew onboard seemed to dissappear down to the back galley for the remainder of the flight. The cabin was in a 2-2 (AC-DF) configuration with just enough legroom for the short duration of the flight.

My Muffin and Apple Juice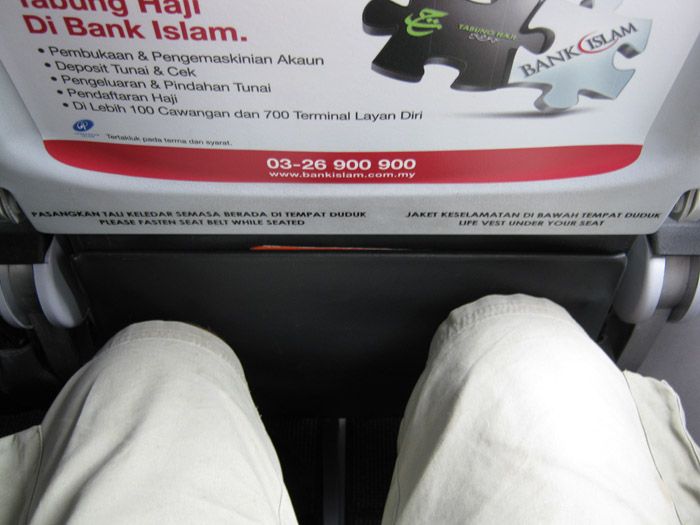 Legroom shot

A view of Subang airport on downwind
We commenced our decent and touched down on runway 15 after a flight time of 1:18. Upon exiting the runway the pilots shut down the left prop and taxiied into the apron on the right prop only. This is standard procedure so that the left prop isn't still spinning when passengers try to disembark at the stand.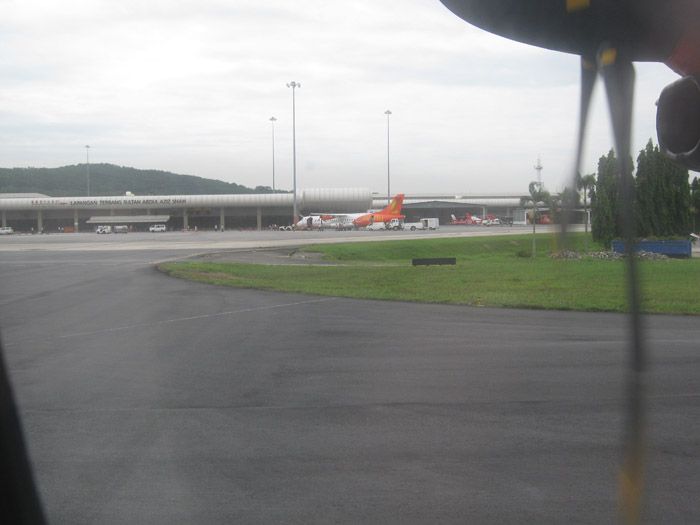 Subang terminal coming into view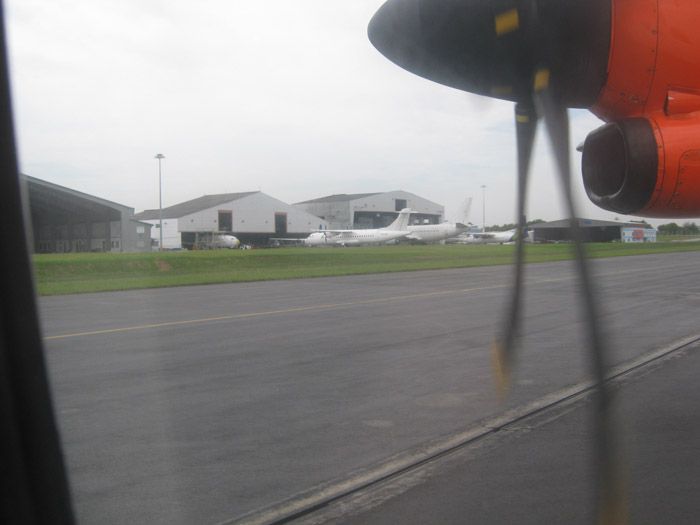 Maintenance hangars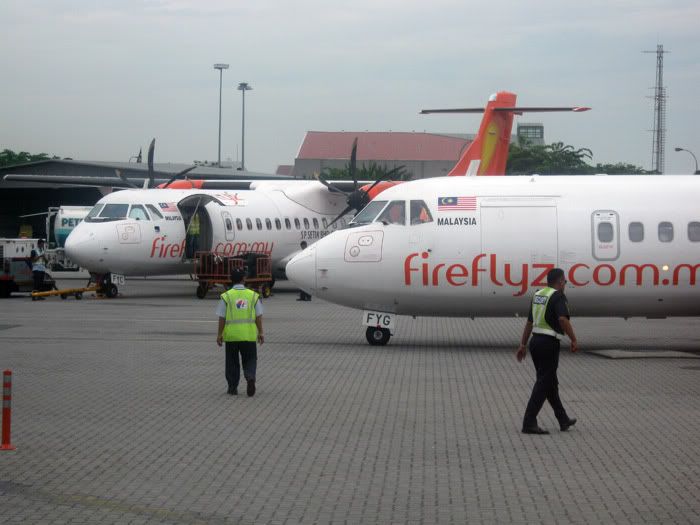 Busy apron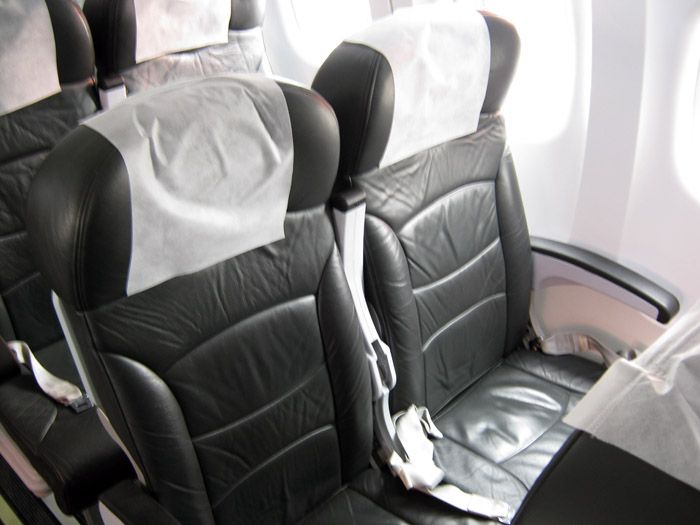 My seat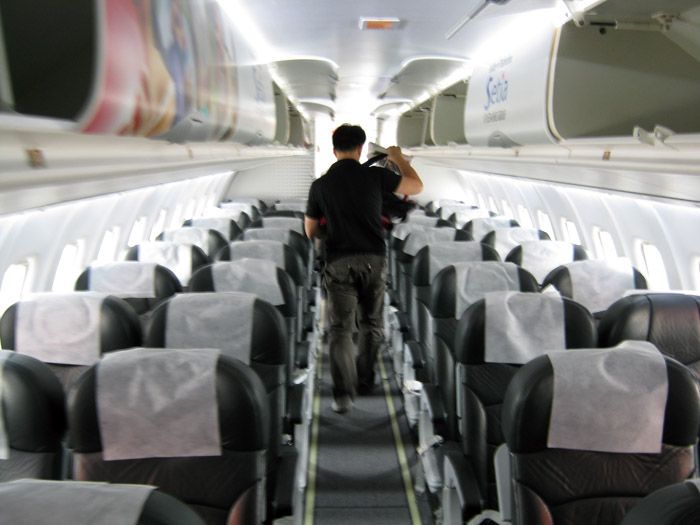 Disembarking
Flight Information
Aircraft: ATR-72-500
Registration: 9M-FYF
Flight No: FD 3515
Route: Subang Airport (SZB) - Singapore Changi Airport (SIN)
Seat: 14A
STD / ATD: 14:50 / 14:49
STA / ATA: 16:00 / 15:57
Aircraft History: Test Rego F-WWEF
Del Date: 25-APR-09
I arrived at the airport for the return leg back to Singapore and found the check-in process much the same to that in Singapore. It was fast and efficient and I was soon holding a boarding pass for seat 14A. You had to get all your bags screened before entering the check-in desk area. I had a look around the terminal which included a viewing terrace (behind glass) which the view was partially obscured by hangars but you were able to see the movements on the runway. Later I found a screen in the terminal which had a map on it showing the position of all outbound/inbound flights on it flying through SZB. Very interesting to watch. After a nice meal at one of the restaurants, I headed through outwards customs and towards the departure lounge. It was quite easy to get lost in the terminal as some of the signage was somewhat improvised. On arrival into the departure lounge, you have a good view onto the ramp and runway. A Berjaya Air Dash-7 was present at one of the gates along with a Firefly ATR.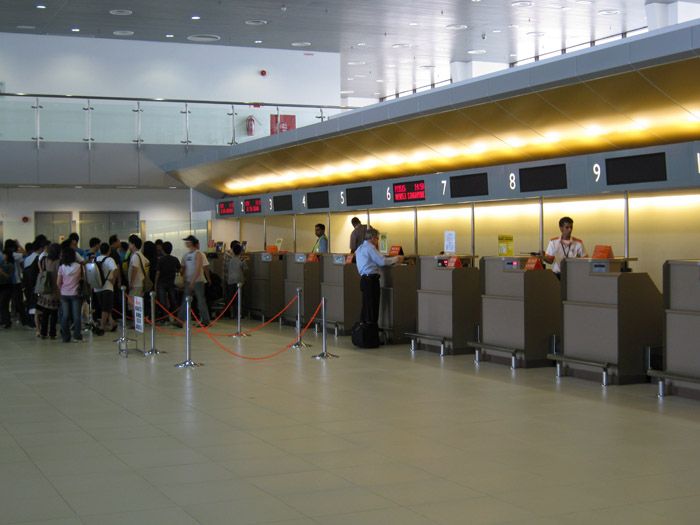 Check-in area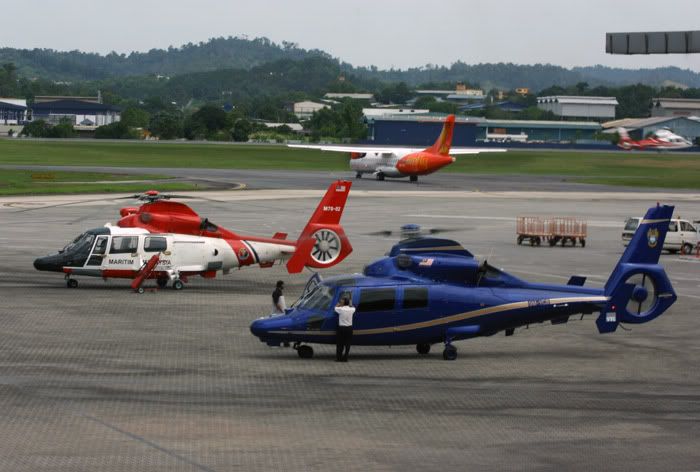 View from the observation terrace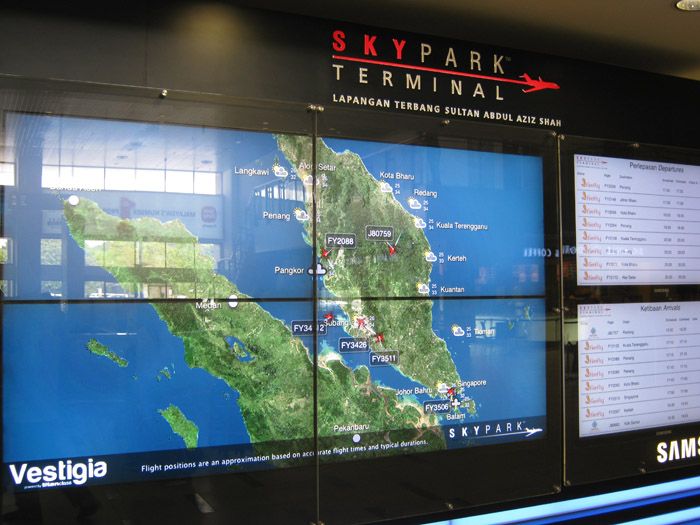 The map showing inbound and outbound flights to SZB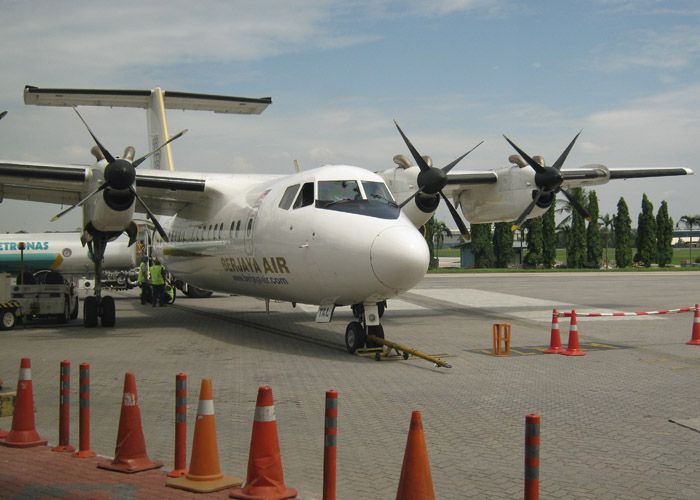 Berjaya Dash-7 which usually flies to the Island of Tioman due to the short length of the runway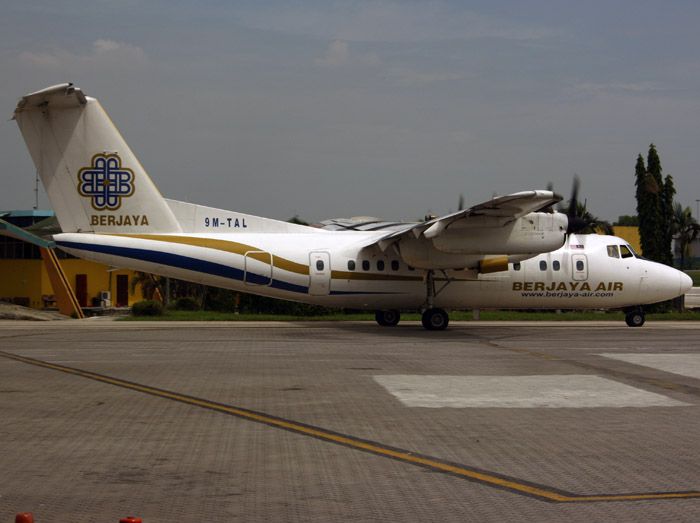 Maybe I'll be on this one next time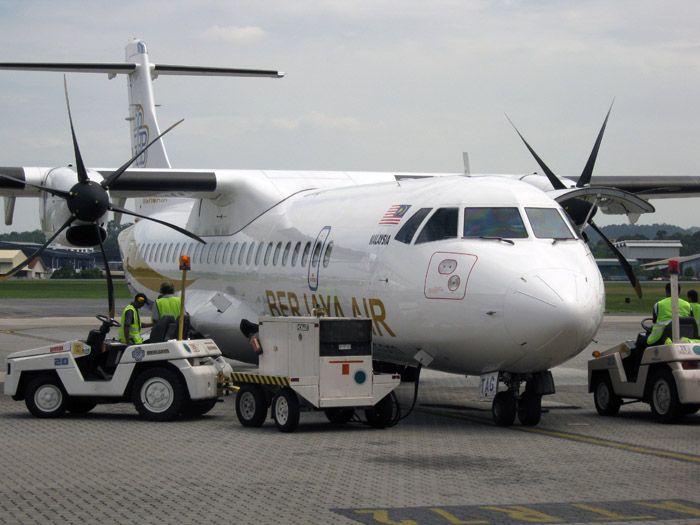 Berjaya ATR
Boarding was announced and we walked out towards our Firefly ATR which was parked on a makeshift bay as there were no parking spots left. We taxiied out to runway 15 and departed to the south taking us close to Sepang Intl (KUL) then we followed the coast at FL170. The cabin crew commenced the snack service once again and also offered a duty free service afterwards which wasn't offered on the way up. The captain also came over the PA for his address before commencing decent to Singapore.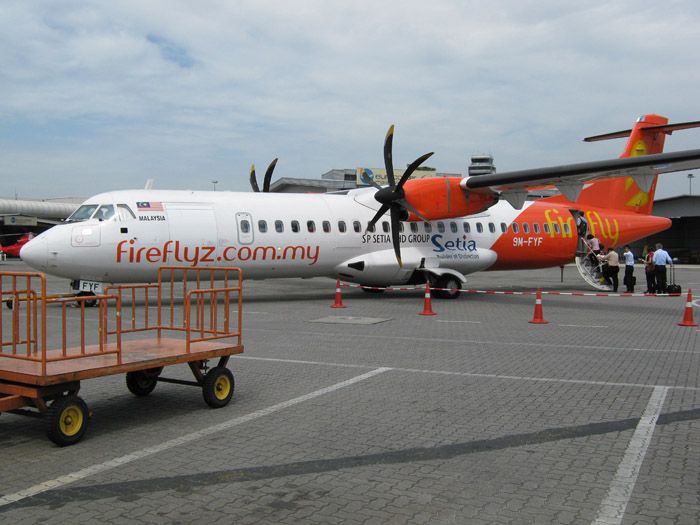 Our ATR at SZB

Kuala Lumput Intl (KUL)
We landed onto runway 20C and taxiied rather fast to our stand at the budget terminal a few minutes ahead of schedule. Customs was a breeze as our flight was the only one being processed at the time and within minutes I have cleared and was out the front of the terminal.
A very pleasent experience with Firefly and onboard the turboprop ATRs.
Thanks for reading and your comments are welcome!
Simon Coates
Home :: Contact Us

&copy 2011 Gate52.com